Olympus MIC-D Digital Microscope
Section Overview:
Olympus has thrown the doors open to a new era in optical microscopy education with the introduction of the MIC-D inverted digital microscope. Designed specifically for a wide spectrum of applications ranging from basic classroom instruction to more advanced laboratory analysis, this versatile microscope features a palette of contrast enhancing techniques that rival many research-level instruments.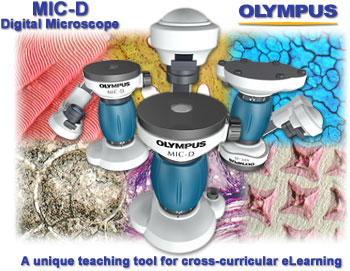 Review Articles
Digital Video Galleries
Collections of time-lapse sequences featuring common chemical crystals undergoing melting transitions and pond life captured with the MIC-D in full-motion video are presented in this gallery. Video sequences are presented either as interactive Java tutorials or in Windows Media Player, and available in several playback formats to match a variety of Internet connection speeds.
Chemical compounds can exist in three basic phases: gaseous, liquid, or solid. This cinemicrographic collection shows time-lapse videos of various chemical compounds as they change physical states.

Freshwater ponds are home to a variety of aquatic and semi-aquatic plants, insects, and animals. In this collection of digital videos, observe the activities of microscopic organisms taken from a typical North Florida pond.
MIC-D Digital Microscope Screen Savers
Visitors who enjoy the galleries are invited to download and install screen savers containing images from the galleries. Our software programmers have worked in collaboration with microscopists to develop a series of screen savers using digital images captured with the MIC-D microscope operating in a variety of contrast-enhancing modes. These screen savers have been developed for computers utilizing the Windows (95, 98, NT, 2000, and XP) operating system and are available as free downloads to our visitors. We hope you enjoy these screen savers, which are provided at no charge by Olympus America, Inc. and The Florida State University.